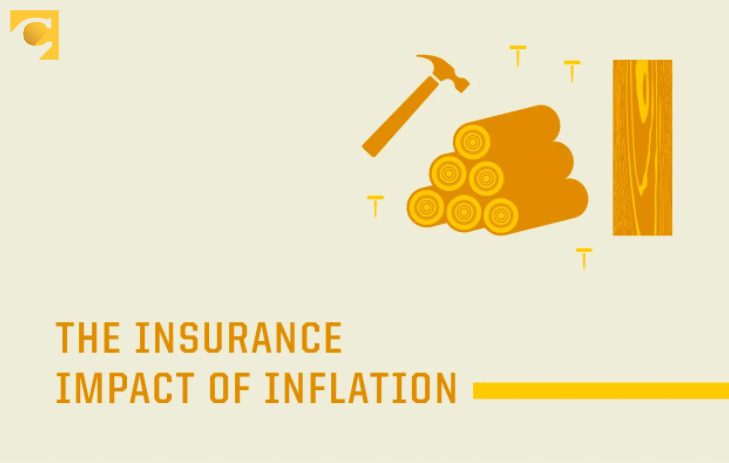 Below, Central Insurance explains the impact of inflation on commercial property insurance.
________________________________________
From supply chain shortages to COVID-related shutdowns to worker shortages, 2021 brought the highest U.S. inflation rates of the past 40 years. Inflation is affecting everything from the price of that (former) "dollar pizza" to the value of used cars to raw building materials, making these trends particularly relevant to commercial insureds with building and business income coverages.
The Impact
Commercial buildings are generally insured on a replacement cost basis which is the cost to replace the building with materials of similar kind and quality with no deduction for depreciation. The annual change in material costs between January 2021 and January 2022 is startling:
Lumber +15.6%
Plywood +47.0%
Commercial Steel +21.5%
Commercial Concrete +14.2%
Structural Steel +34.2%
One of the primary purposes of commercial insurance is to shift the exposure of financial loss to the insurance company, freeing up other funds for investment back into your business. While you can't control inflation, you can take charge of your financial protection by analyzing your current building limit and ensuring that the limit is adequate to replace the building in the unfortunate event of a total loss.
Being underinsured could result in a significant unanticipated capital outlay. Some commercial insurance policies also include coinsurance clauses requiring the building limit to be a minimum percentage (typically 80, 90 or 100%) of the full replacement cost value. If current inflation rates aren't taken into account, the coinsurance penalty could also result in unanticipated capital outlay.
How to Better Protect Your Commercial Property
Your independent insurance agent and insurance company will have valuation resources available to confirm the replacement cost of your building. Since property rates are applied to the building values per 100, you're likely to see premium increases in 2022. A few mitigation actions to potentially offset these increases include higher deductibles, installing fire protection (i.e. sprinkler system, central station fire alarms) for possible rate credits, and self-insuring smaller structures. Meeting with your insurance agent is also a good opportunity to make sure that you are adequately covered for any building code ordinance or law requirements.
Business Income coverage should also be reviewed in light of the current inflation rates. This important coverage keeps income flowing, retains key employees and retains customers. Inflation can affect sales, wages and the restoration time to repair your property. Additionally, there may be a coinsurance clause applicable. Your independent agent can help you evaluate these important exposures in order to set an adequate business income limit.
A commercial property insurance policy helps you manage the many exposures to financial loss. Don't let inflation minimize this protection. Be proactive and schedule a consultation with your agent to review your coverage and ensure that you're adequately protected.
The information above is of a general nature and your policy and coverages provided may differ from the examples provided. Please read your policy in its entirety to determine your actual coverage available.
________________________________________
Source: Central Insurance